News
Wednesday, Jan. 23rd, 2019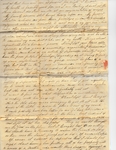 1800s letters used by SUNY Potsdam
students in Professor Tom Baker's class.
click here to link to link to
John Raymond's
Civil War project!
CHINA - Land of Silk and Dragons
Above: Shannon Mattice, SUNY Potsdam student intern researched the museum's opium pipes and the history of the Opium Wars in China. Image courtesy of SUNY Potsdam.
Many of the artifacts on display are from the Qing Dynasty (1644-1911). Most of the Chinese artifacts were donated to the museum from Dr. Hans Egon Scheyer. On exhibit are Qing official's robes, hats, and jewelry. The collection will be on view through Sept 2019.
(Downloadable / Searchable PDF format)
RESEARCHERS: If you are traveling here to do research-please call ahead and make an appointment so the staff can locate the information you seek.
2 Park Street, Civic Center, Potsdam, NY 13676
Sometimes a family file contains just one obituary from a newspaper, other files may contain dozens of folders, personal letters, etc...