News
Friday, Jan. 11th, 2019
Potsdam...""Not only did local residents manufacture and transport Illegal alcohol, but they drank it as well. County Court dockets are filled with incidents of driving while intoxicated an disiturbing the peace. As with the liquor smugglers, the
Courier
tended to report altercations involving alcohol in a cavalier fashion. A case in point is a reported raid on a Water Street "place" in Potsdam. When a squad of officers arrived to investigate a complaint that...
MORE
Open Thursdays & Fridays 10-4
CHINA - Land of Silk and Dragons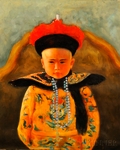 China was ruled by Emperors for over three thousand years. Some of these dynasties lasted over 700 years. There was constant struggle. In 1911, the Chinese Revolution and the establishment of the Republic of China changed that. The last dynasty, the Qing Dynasty ruled China from 1644 to 1911. Several Potsdam families traveled to China shortly after the revolution, one as a physician, two with connections as Christian missionaries,
and others for reasons yet to uncover.
Most artifacts on display are from the Qing Dynasty (1644-1911). Much of the Chinese material culture was donated to the museum. A small collection is currently on loan. There are Qing official's robes, hats, and jewelry. Also on view in this exhibit are scrolls, paintings on silk, inlaid boxes, and furniture - as well as ceramics, a carved ivory chess set and a mahjong game made for export from the 1920s. The museum staff, with the help of Chinese scholars are researching the collection which will be on view from Dec 2018 to Sept 2019.
Cemetery Records for the Town of Potsdam
(Downloadable / Searchable PDF format)
RESEARCHERS: If you are traveling here to do research-please call ahead and make an appointment so the staff can locate the information you seek.
2 Park Street, Civic Center, Potsdam, NY 13676
Sometimes a family file contains just one obituary from a newspaper, other files may contain dozens of folders, personal letters, etc...