News
Tuesday, Oct. 12th, 2021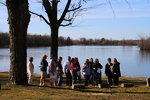 Sunday October 17th at 2PM
Appointments are no longer necessary to visit the museum!
Please come and see our exhibits!
Tuesday-Wednesday-Thursday-Friday 10AM-4PM
315-265-6910
museum@vi.potsdam.ny.us
Check out our Facebook page for updated posts.
RESEARCHERS:

Email us for help at: museum@vi.potsdam.ny.us
If you are calling or emailing the museum to request some research, we do the first hour for free and charge $15/hour after that. If you check our index, and it lists a subject or surname, the file may contain one obituary or 1 cubic foot of files. Call us and ask us what we have.

We are happy to help you.

This Museum is handicap accessible

.
2 Park Street . Civic Center . Potsdam . NY . 13676